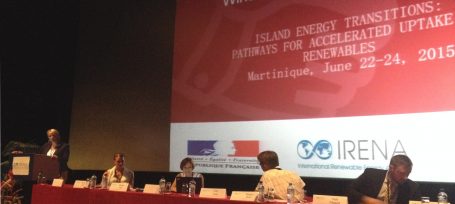 Road map to wind in Island States
In the congress center of Madiana in Martinique, an international attendance of green economy experts gathered by IRENA and the French Government from 22nd to 24th of June 2015, shared views on how to accelerate the transition toward renewable energy in island economies.
The SIDS-Lighthouse program of IRENA particularly focused on establishing the necessary preconditions for deployment of renewable energy on islands.
The presentation held by Martina Dabo, co-owner and CTO of QiDO Energy Development GmbH, about "Assessment and Testing of Island wind resources without met mast" had a great impact on attendance and organizers.
At the end of the conference, out of all presentations and brainstorming sessions, IRENA retained 6 key areas to focus on in the Wind Energy track to accelerate the transition to renewables.
QiDO is very happy that 3 out of those 6 priorities where identified and highlighted in Martina's presentation as cornerstone tools for a successful and massive deployment of wind:
Wind resource assessment standards for small projects
Project development loan / grant program
Circuit rider program
QiDO Energy Development has more than 10 years in consulting, developing and implementing small wind energy project around the globe, and will continue to closely work with all stakeholders to increase penetration of wind energy wherever it makes sense.